Carlton Ware
For almost 100 years Wiltshaw & Robinson, the makers of Carlton Ware, produced an extraordinary range of earthenware and china at its Copeland Street works in Stoke-on-Trent, Staffordshire, England. As is true of most potteries, flower frogs made up only a tiny portion of their production. However, their flower frogs are of unusually high quality and beauty.
The following text and images were provided by Harvey Pettit, except as noted. Harvey runs both the Carlton Ware World website and the Carlton Ware World on Facebook group. During the 1980s, Harvey recorded interviews with many former Carlton Ware employees and designers.
---
Bridges
NEW MIKADO pattern No. 2728
It appears that Carlton Ware first introduced flower frogs in the early 1920s to be used with the pottery's shallow floating flower bowls, as they were called. They were often decorated with Chinoiserie patterns and had a clever incurving rim to prevent water spillage.
NEW MIKADO pattern No. 2728
Green LUSTRINE
Decorated in matt glazes
NEW MIKADO pattern No. 2729
---
Rocks and Tree Stumps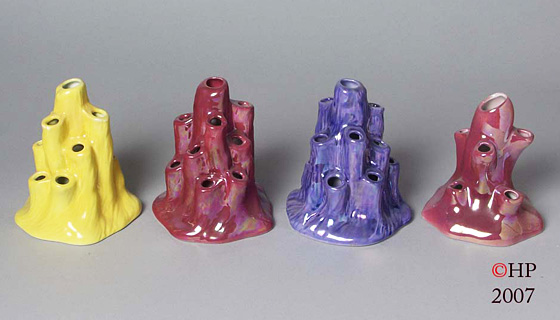 Examples in LUSTRINE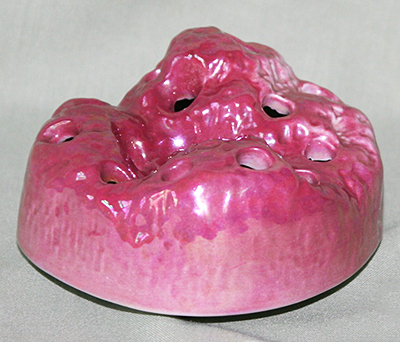 Plain Pink
---
Birds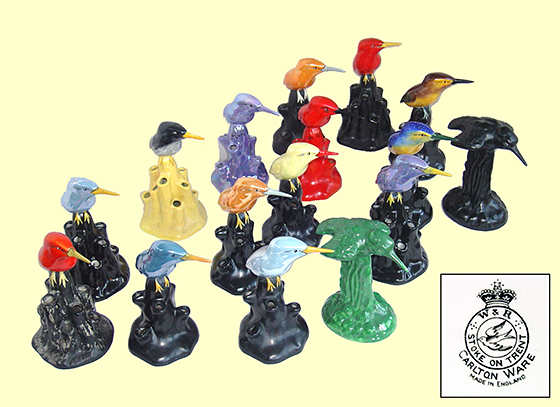 Kingfishers
More elaborate flower frogs used the same or similar rocks or tree stumps, but on which various birds perched. Sometimes the birds were realistically painted in enamel colours, but they were also available in plain and lustre colours.
Cormorant
Kingfisher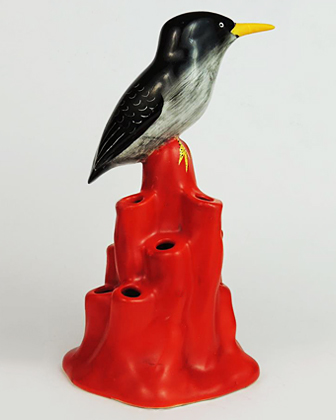 Kingfisher
Kingfisher in LUSTRINE
---
Domes
Ruby Lustre finished in gold
TEMPLE pattern No. 3130 [photo from web]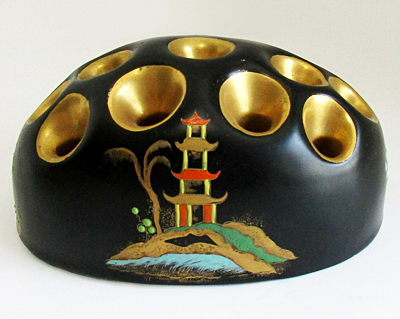 NEW MIKADO pattern No. 2881 [photo from web]
NEW MIKADO pattern No. 2728