Catalina Island Pottery
The ever-popular tourist attraction of Santa Catalina Island, just off the coast of Southern California, reached its height of celebrity during the peak of the Art Deco movement. During that time, from 1927 to 1937, Catalina Clay Products aka Catalina Island Pottery operated on the island.
Following his parents' lead, Dan Austin has had a lifelong passion for the island and its history, as can be seen on his outstanding website Dan & Jane Austin's - Catalina Historical Archives Site. Dan's passion led him and his wife Jane to collecting Catalina Island Pottery, and we are grateful to have them share the pottery's flower frogs with us here.
The Austin's collection includes most all the Catalina Island Pottery flower frog shapes, as seen in the photos, below. We are also grateful to Wayne and Nancy Huff, Jerry Kunz, and others for contributing photos from their collections. Credits appear in [brackets] in the photo captions.
Some basic information is presented along with the photos, but you will find complete information on the flower frogs, the bowls that go with them, and other Catalina Island Pottery in Dan's A Complete List of Catalina Island Pottery.
---
Pelican – Shape 62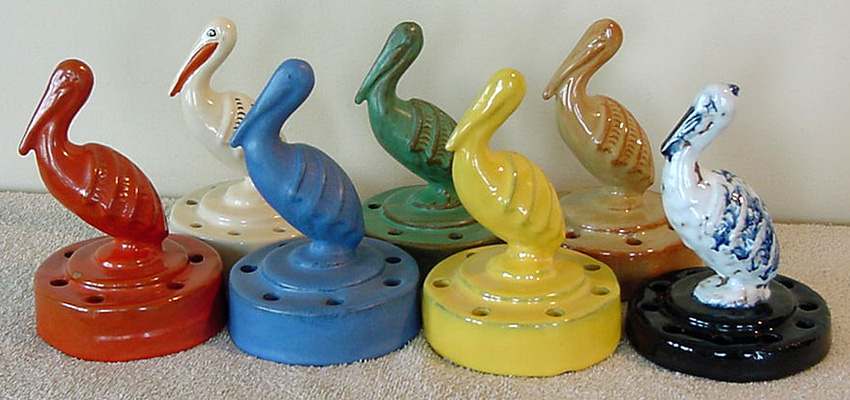 62 in Toyon Red, Catalina Blue, Mandarin Yellow, white blended glaze on short black base, Pearly White, Descanso Green, and Monterey Brown [Jerry Kunz]
Additional details for Shape 62: 5½" tall and seen in Black, Catalina Blue, Descanso Green, Mandarin Yellow, Monterey Brown, Pearly White, and Toyon Red
62 in Catalina Blue in bowl 61 [Bob Haffey]
---
Crane or Stork – Shape 206
206 in Pearly White in bowl 204 [Dan & Jane Austin]
Additional details for Shape 206: 7½" tall and seen in Catalina Blue, Descanso Green, Mandarin Yellow, Pearly White, Seafoam, Toyon Red, and Turquoise
206 in Pearly White [Marcia Carter Bradley]
206 in Catalina Blue [Randy Sherman]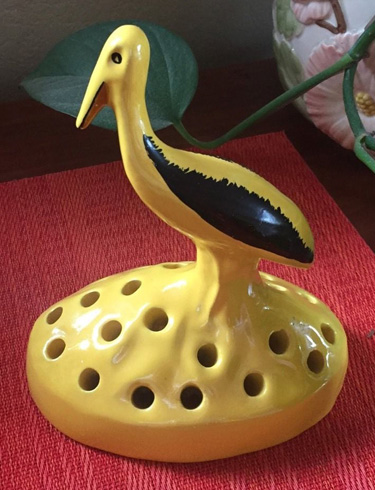 206 in Mandarin Yellow [unknown]
206 in Descanso Green [Bob Haffey]
---
Pelicans & Cranes
More Colors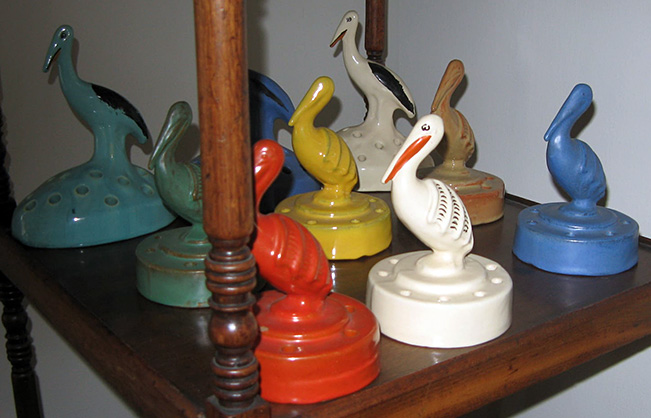 Pelicans in Toyon Red, Pearly White, Catalina Blue, Descanso Green, Mandarin Yellow, and Monterey Brown; Cranes in Seafoam, Catalina Blue, and Pearly White [Jerry Kunz]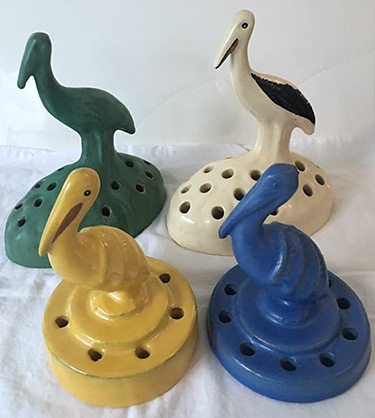 Pelicans in Mandarin Yellow and Catalina Blue; Cranes in Descanco Green and Pearly White [Wayne and Nancy Huff]
Signatures
CATALINA ISLAND is impressed in the bottom of this early red clay Catalina Blue pelican that has a short base; see photo directly above [Wayne & Nancy Huff]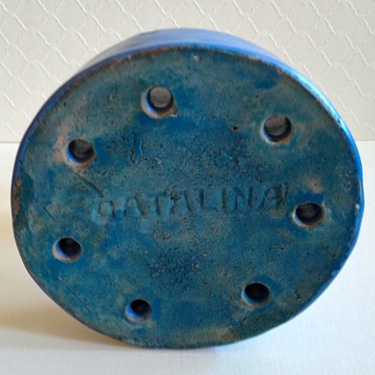 CATALINA is impressed in the bottom of this later white clay pelican [Wayne & Nancy Huff]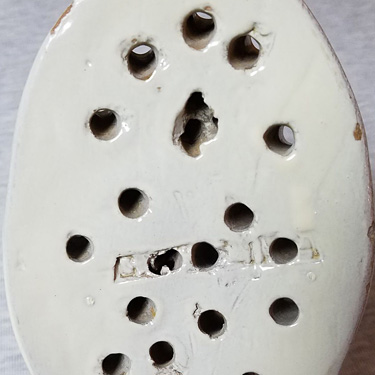 CATALINA is impressed in the bottom of this crane that has a solid base; most cranes have a hollow base and no signature [Marcia Carter Bradley]
---
Non-Figural Flower Frogs aka Blocks
6¼" Step – Shape 158-A
5½" Step – Shape 158-B
3¼" Oval – Shape 201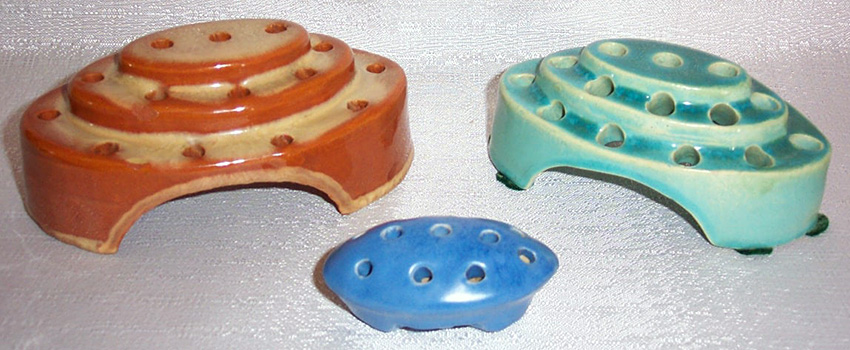 158-A in Monterey Brown, 158-B in Seafoam, and 201 in Catalina Blue [Dan & Jane Austin]
Additional details for these three shapes:
158-A: 6¼" long and seen in Black, Catalina Blue, Descanso Green, Monterey Brown, Seafoam, and Toyon Red

158-B: 5½" long and seen in Catalina Blue, Descanso Green, Mandarin Yellow, Monterey Brown, Pearly White, Seafoam, and Toyon Red

201: 3¾" long and seen in Catalina Blue, Descanso Green, Monterey Brown, Mandarin Yellow, Pearly White, Toyon Red, and Turquoise
Bottom of 158-A shown above [Dan & Jane Austin]
Bottom of 201 shown above [Dan & Jane Austin]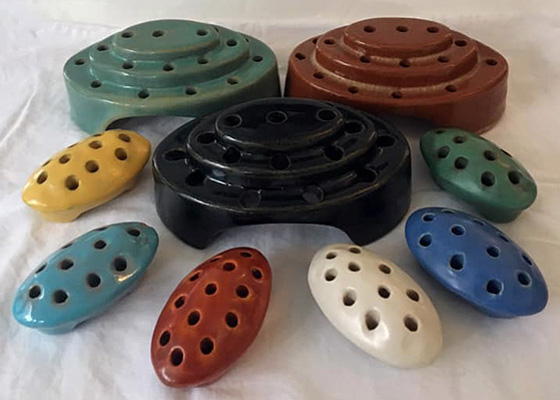 158-A in Seafoam, Monterey Brown, and Black; 201 in Mandarin Yellow, Turquoise, Tonyon Red, Pearly White, Catalina Blue, and Descanso Green [Wayne & Nancy Huff]
158-A in Monterey Brown in bowl 204 [Dan & Jane Austin]
158-B in Seafoam in bowl 202, and 201 in Catalina Blue in bowl 200 [Dan & Jane Austin]
158-A in Catalina Blue in bowl 204 [Bob Haffey]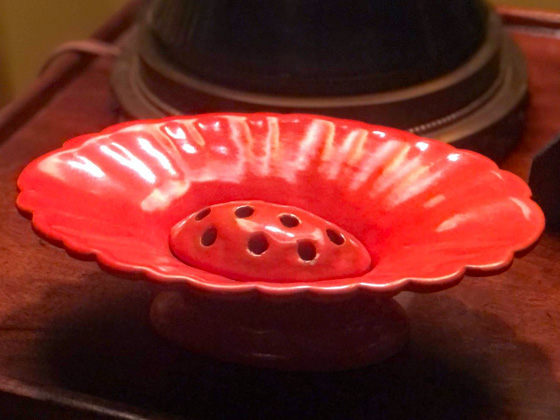 201 in Tonyon Red in bowl 200 [Jeanine Shepherd]
---
Starlight – Shape 706
706 in Turquoise and Colonial Yellow [Dan & Jane Austin]
Additional Details for Shape 706: 5" diameter and seen in Powder Blue, Colonial Yellow, Coral Island, Mandarin Yellow, Pearly White, and Turquoise
706 in Powder Blue with tray 703 [eBay]
706 in Pearly White in bowl 710 [eBay]
706 in Colonial Yellow in bowl 90 [Dan & Jane Austin]
706 in Coral Island [unknown]
---
Round – Shape 707-DA
707-DA in Mandarin Yellow in bowl 210 [Wayne & Nancy Huff]
Additional Details for Shape 707-DA: 8" diameter and seen in Monterey Brown, Mandarin Yellow, and Seafoam