Kathleen McLaughlin's Collection
Frogs, Turtles, Lily Pads, et al
Following a few photos of my collection in my home, you will find photos of my collection sorted by manufacturer. The second to last photo is titled Various Manufacturers and includes the manufacturers for which I have only one or two examples; the last photo is titled Unidentified Manufacturers.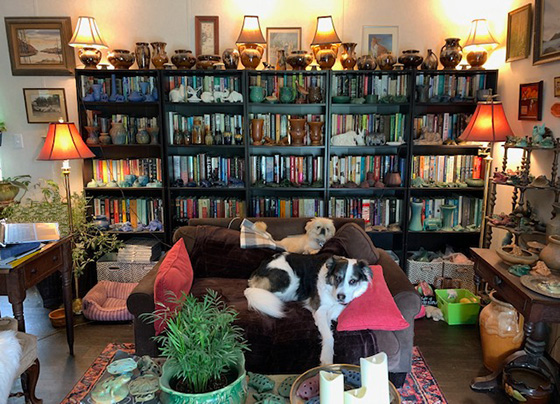 Guard dogs at the ready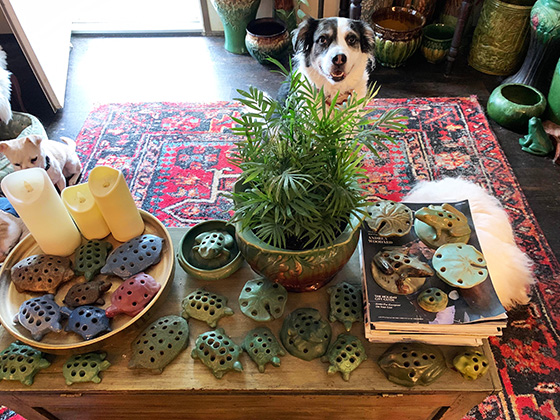 Manufacturers include Fulper, Niloak, Peters and Reed, Roseville, and Zanesville (see manufacturer photos below)
Left to right: Frogs in bowls by Brush in Brown Onyx, Green Onyx, and Blue Art Vellum; scarab in bowl and additional scarab by Fulper
Bauer Pottery
Matte and gloss glazes
Brush-McCoy Pottery Company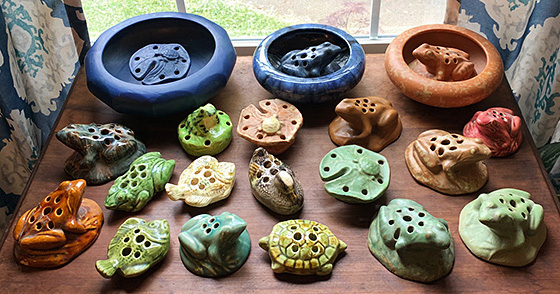 Glazes include Colonial Mat in blue and fawn, Onyx in brown and blue, Art Vellum in green, blue, and brown, KolorKraft in red and green, and matte green.
Note: Brush-McCoy Pottery Company was renamed Brush Pottery Company in 1925, and the above photo includes a mix of pieces made under both names.
Camark Pottery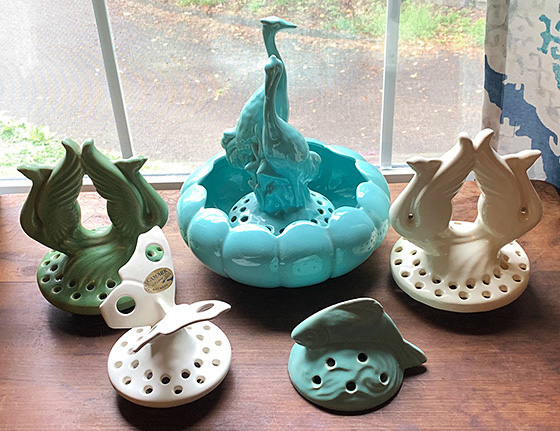 Cliftwood Art Potteries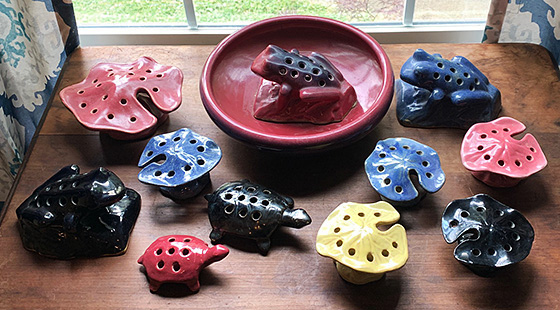 Fulper Pottery
Made in Japan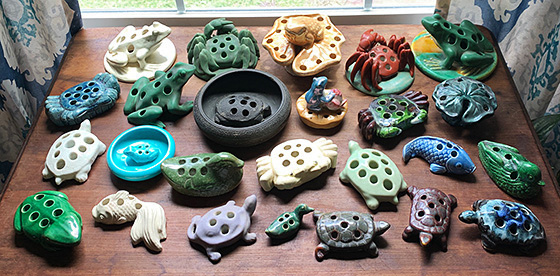 A few are clearly Awaji, but most remain a mystery as is commonplace with MIJ pieces.
Niloak Pottery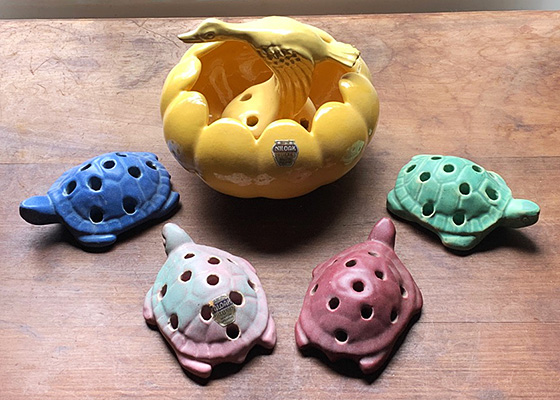 Peters & Reed Pottery
Glazes include Wilse Blue, Landsun in blue and brown, Pereco in blue and brown, and matte in green and blue.
Rosemeade Wahpeton Pottery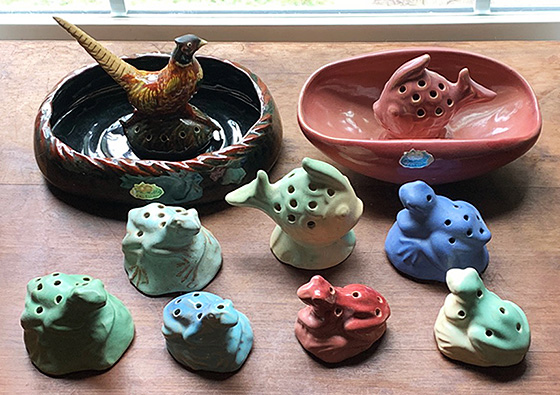 Roseville Pottery
Early Carnelian line
Van Briggle Art Pottery
Ming Blue and Mulberry glazes
Weller Pottery
Coppertone and Woodcraft lines
Zanesville Stoneware Company
Glazes include Matte Blue, Matte Green, Matte Rose, Gloss Black, Vulcan, Neptune, and an unidentified pale gray.
Various Manufacturers
Front row: Shawnee Pottery (seahorse and dolphin)
Middle row: Haeger Potteries, Caliente Pottery, Sequoyah Orphan School, and Haeger Potteries
Back row: Dryden Pottery, Garden of the Gods Pottery, and West Coast Pottery
Unidentified Manufacturers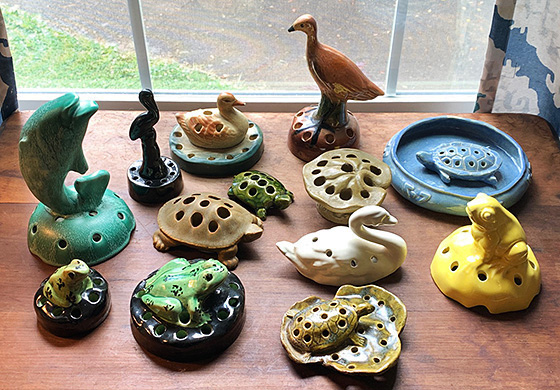 The black crane may be by Royal Hickman after he left Haeger. The tan turtle and lily pad may be Hull based on their glaze. The small green turtle is identical to the Peters & Reed versions except for the glaze, and might be late Zaneware. And the white swan may be Red Wing. The photo also includes two studio pieces.