Glass Figurines
Contents
---
Kevin Harper's Collection
You can see more of Kevin's collection on the Glass Blocks and Metal pages, and in his Facebook group, The Harper Collection.
Walther & Sohne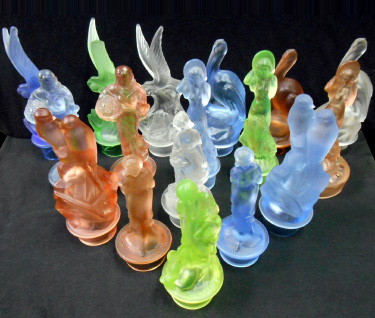 Flower frog inserts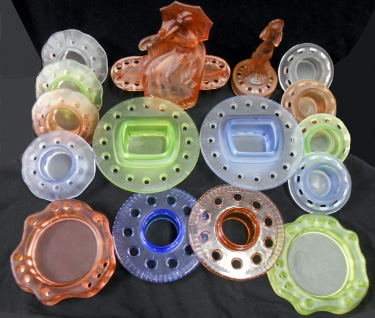 Flower frogs
Schweig Muller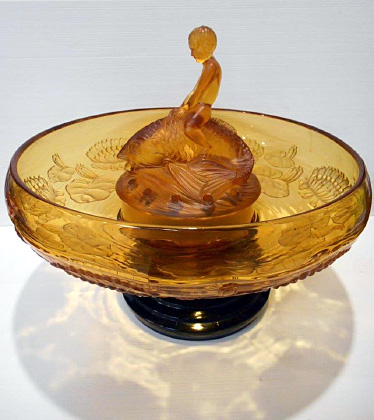 Boy on a fish in a lily bowl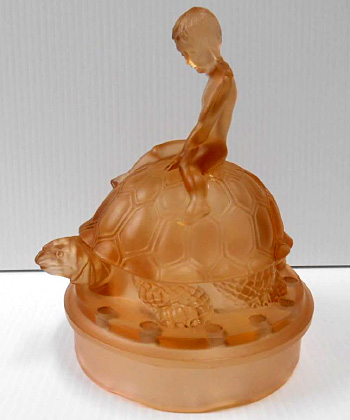 Girl on a tortoise flower frog
---
Renee Keehn's Collection

Bashful Charlottes manufactured by Summit Glass. Summit purchased the mold from Cambridge Glass and produce a similar product but with a ribbed base.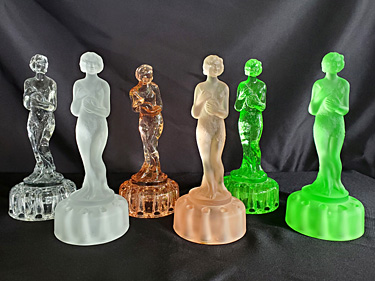 Mandolin Lady by Cambridge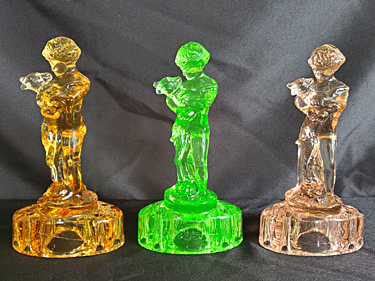 Two Kids by Cambridge
Draped Lady by Cambridge
Two Kids by Cambridge (different bases)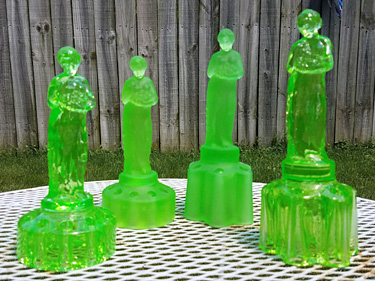 Rose Lady by Cambridge (base types 1-scalloped and 2-round)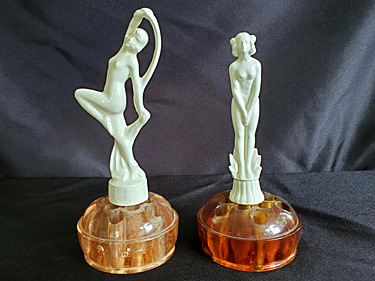 Porcelain figures of unknown manufacturer; flower frogs by Westmoreland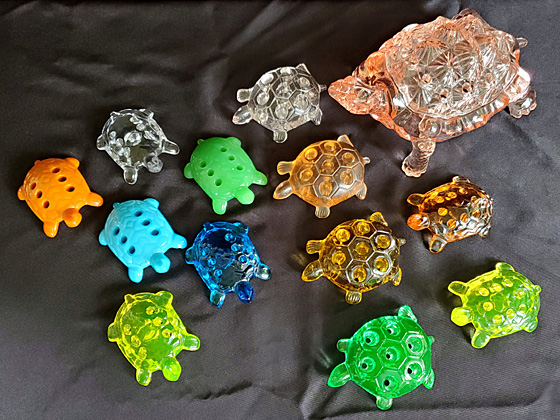 Left 6 by Northwood; middle 4 by Westmoreland; right 2 by Fenton; large turtle by L.G. Wright for Fenton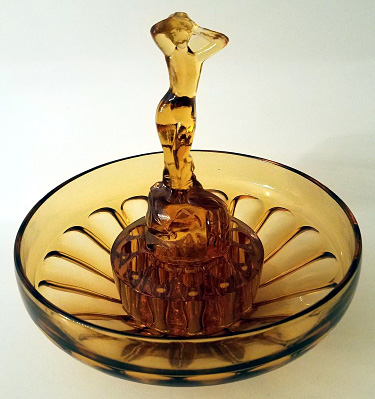 Andromeda flower frog and Queens bowl by Bagley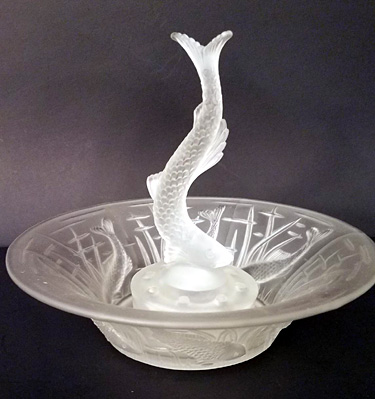 Jumping Fish flower frog and bowl by Rosice
Dancing Lady flower frog and Splash bowl by Joseph Inwald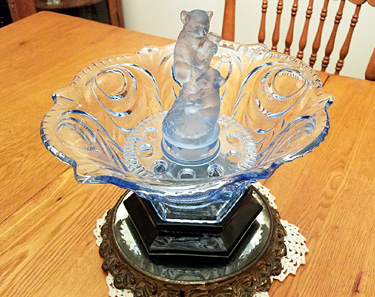 Bear cub flower frog and bowl by Walther & Sohne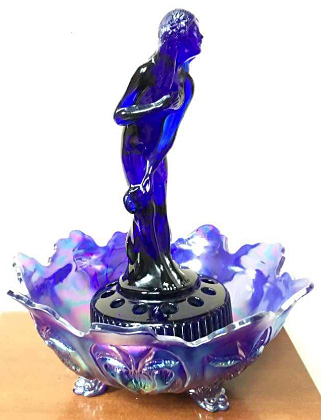 Bashful Charlotte flower frog and bowl by Summit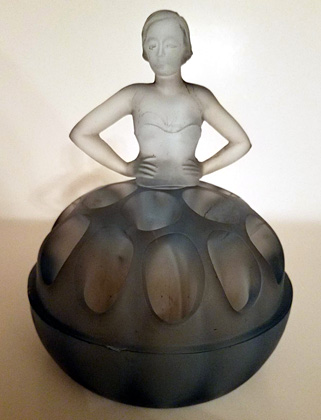 Unusual one-piece flower frog of unknown manufacturer
---
Nigel Stone's Collection

Nigel has one of the best collections of Art Deco Pressed Glass in the UK. His knowledge is sought around the globe to help identify quality items.
Both Nigel and his husband, Jason Riches, have a passion for antiques. They offer spectacular vintage items for sale in their Etsy store, VintageDecoUK, which specializes in Art Deco Pressed Glass and Victorian Glass.
Showcase of Art Deco Centrepieces and Flower Frog Figures (2:37)
Polar Bear by unknown manufacturer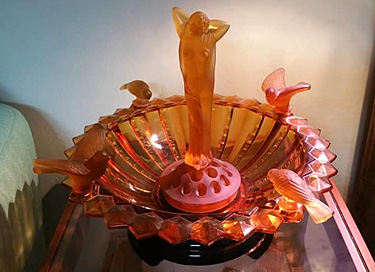 Lady with Birds and Fortuna bowl by Brockwitz
Standing Lady possibly by Sowerby
Bashful Charlotte by Cambridge
Miss Muffet possibly by Schweig Mueller
Nelson Centrepiece by Walther & Sohne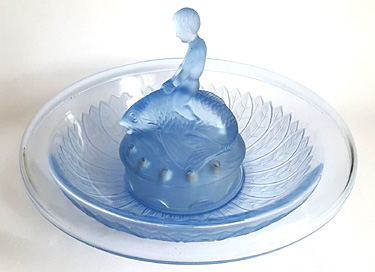 Boy on Fish by Schweig Mueller
Hummingbird by unknown manufacturer
Girl on Turtle by Schweig Mueller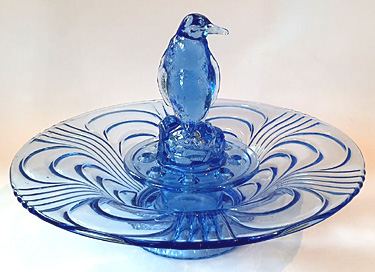 Penguin by Libochovice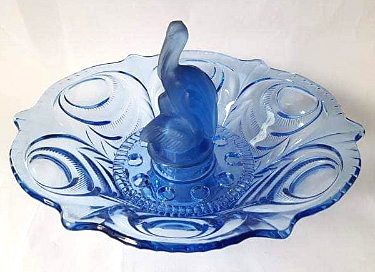 Pelikan by Walther & Sohne
Kakadu by Brockwitz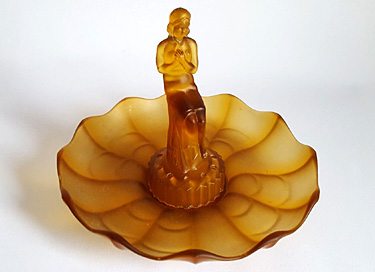 Stump Lady possibly by Rosice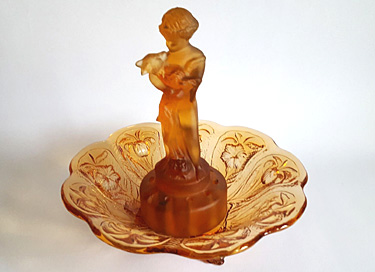 Two Kids by Cambridge
Leaping Fish by Rosice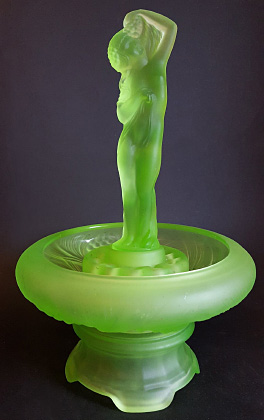 Lady by Jobling
Large Sailing Boat by Carl Shutte
---
John Walter's Collection

Left to right: The Cambridge colors for the above 12¾" Draped Ladies are Moonlight Blue, Peach-Blo, Peach-Blo Satin, Crystal, Crystal Satin, Emerald, Emerald Satin, Dark Amber, Amber, and Amber Satin.
Cambridge Glass Company
Except as noted, all of the flower frogs in John's collection were manufactured by Cambridge Glass Company.
Draped Ladies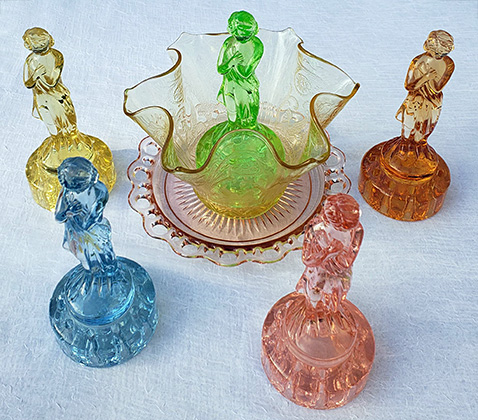 Clockwise from bowl: Light Emerald, Amber, Peach-Blo, Moonlight Blue, and Gold Krystol
Note: These figures also came in Satin versions.
Rose Ladies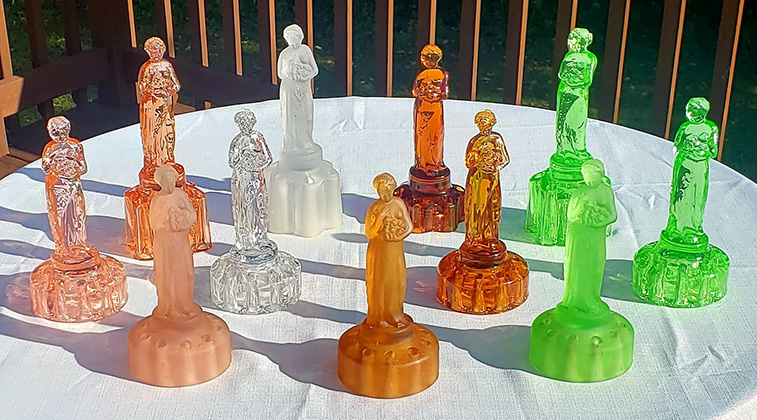 In Dianthus Pink, Emerald Green, Amber, and Crystal in satin and regular finishes with fluted and round bases
13¼" Draped Ladies with Fluted Bases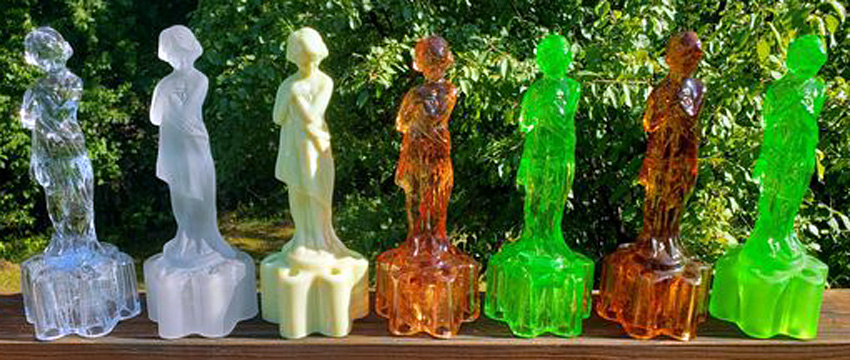 Left to right: Crystal, Crystal Satin, Ivory, Peach-Blo, Emerald, Amber, and Emerald with Satin base
Two Kids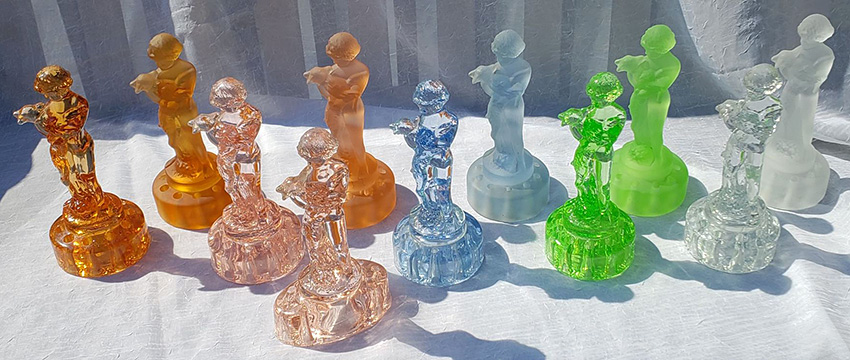 Left to right: Amber, Amber Satin, Peach-Blo, Peach-Blo with oval base, Peach-Blo Satin, Moonlight Blue, Moonlight Blue Satin, Light Emerald, Emerald Satin, Crystal, and Crystal Satin
Mixed Figures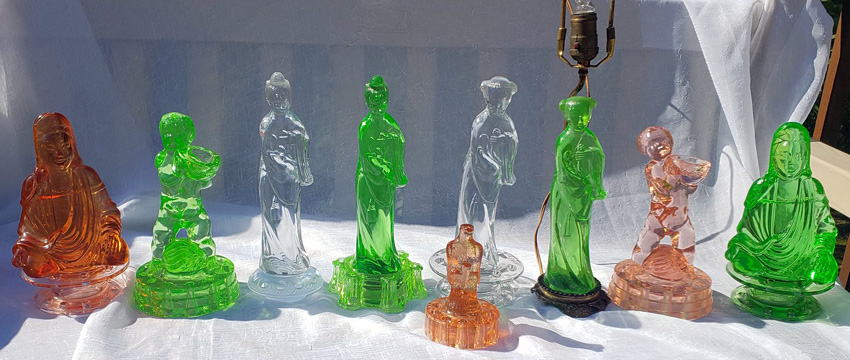 Left to right: Amber Buddha, Light Emerald Melon Boy, Crystal One-Bun Geisha, Emerald One-Bun Geisha, Peach-Blo Eagle, Crystal Two-Bun Geisha, Emerald Two-Bun Geisha on lamp base, Peach-Blo Melon Boy, and Emerald Buddha
Note: The Buddhas and Crystal Geishas should have screw-in bases as seen on the Emerald One-Bun Geisha.
Green Ladies and Buddha
This group is all in Emerald and Light Emerald, some in the Satin forms. And all glow under black light.
Parade of Colors


Left to right Heisey duck in Flamingo Pink with Cambridge eagle and ladies in Dianthus Pink* and Dianthus Pink Satin: Heisey Duck, Eagle on Stump, Bashful Charlotte 6½", Rose Lady 8½" (2), Draped Lady 8½" (2), Draped Lady 8½" with oval base, Two-Kids 9¼" (2), Two-Kids 9¼" with oval base, Mandolin Lady 9½" (2), Watermelon Boy 9¾", Bashful Charlotte 11½" (2), Draped Lady 12¾" (2), Draped Lady 13¼" with high fluted base
* Cambridge called their pink Peach-Blo until 1934 when they changed it to Dianthus Pink
Left to right in Crystal, Crystal Satin, and Ivory: 6½" Bashful Charlotte (2), 8½" Draped Lady (3), 8½" Rose Lady, 9¼" Two Kids (2), 9½" Mandolin Lady, 11½" Bashful Charlotte (2), 12¾" Draped Lady (2), and 13¼" Draped Lady Fluted Base (3)
Watermelon Boy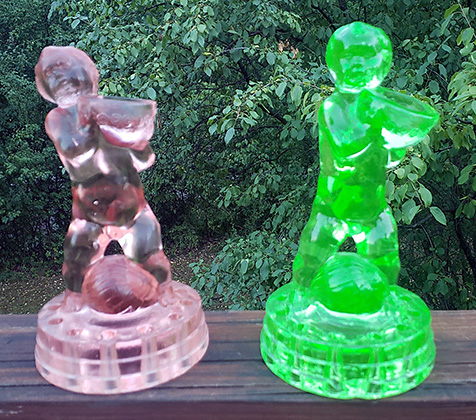 9¾" in Dianthus Pink and Emerald
Draped Lady
8½" in Gold Krystol and Gold Krystol Satin
Dancing Lady
In Pink Satin by New Martinsville