Nancy Perchard's Collection
Cowan Figurines
I was introduced to Art Deco design years ago when I met the late and great Mike Nickel, a very knowledgeable dealer in antiques who specialized in American Art Pottery. He introduced me to Cowan figurals, which include figurines, bookends, and ashtrays, as well as the gorgeous flower frogs.
I enjoy collecting Cowan flower frogs for their Art Deco aspect. I am grateful to have met fellow collectors who specialize in Cowan pottery and have helped me tremendously in identifying and acquiring pieces for my collection.
In addition to my Cowan pieces, I have one figurine by Frederick Walrath that appears at the bottom of the page.
Photo Captions: The information provided in the photo captions was obtained from Cowan Pottery and the Cleveland School with Values by Mark Bassett & Victoria Naumann, with supplemental information from Flower Frogs for Collectors by Bonnie Bull, and the Cowan Pottery Museum Associates website, as listed on the Identification Resources page.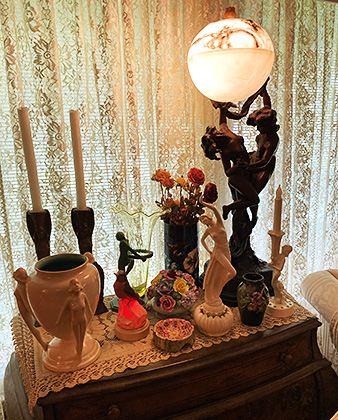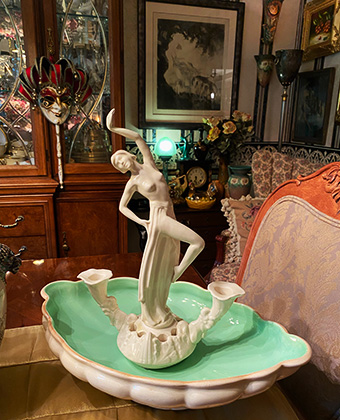 Triumphant Candelabra by R. Guy Cowan 1927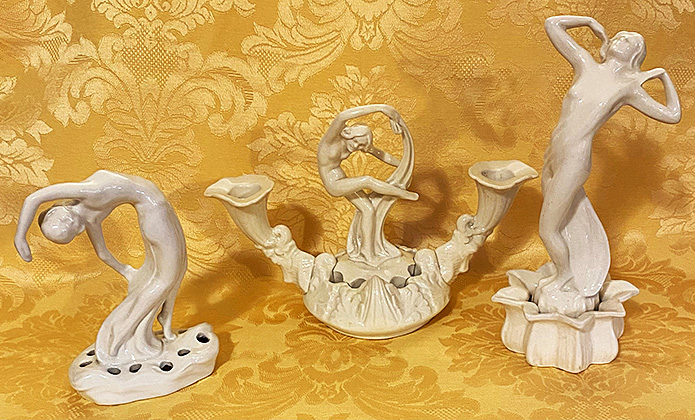 Left to right by R. Guy Cowan: Grace 1922, Pavlova Candelabra 1927, and Awakening 1930
Left to right by R. Guy Cowan except as noted: Scarf Dancer 1925, Kneeling Nude attributed to Walter Sinz c. 1922, Swirl Dancer 1926, and Duet 1925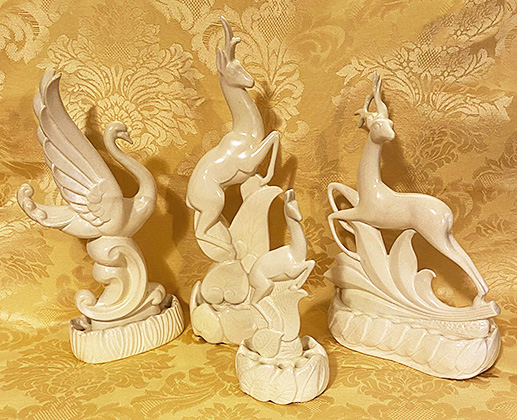 Left to right by Waylande Gregory: Swan 1930, Wildwood Stag 1929, Mayflower Stag 1929, and Saguinay Stag 1930
Left to right by R. Guy Cowan 1925: Repose, Loveliness, and Diver
Left to right: Laurel by R. Guy Cowan 1926, Pavlova by R. Guy Cowan and Walter Sinz 1924, and Debutante by R. Guy Cowan 1928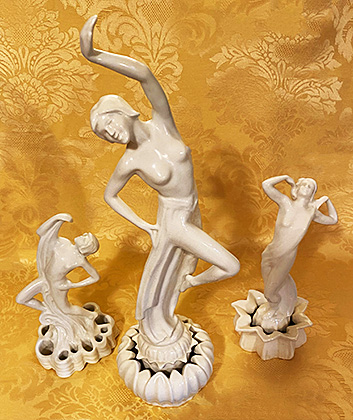 Left to right by R. Guy Cowan: Heavenward 1925, Triumphant 1926, and Awakening 1930
Frederick Walrath
Walwrath was a studio potter, and did not produce his works commercially. Thus they are very rare.