Peter Christensen's Collection
I collect two styles, blocks and lids. Blocks were often sold with a matching bowl, and the flower stems were placed in the holes of the "frog" as it set in water in a bowl. Lids were sold with a vase, and the flower stems were placed through the holes and down into the water.
You'll find a number of photos of my collection below, and you may view my complete collection in my Ceramic and Glass catalogs.
Please feel free to contact me via e-mail at Peter@MyFlowerFrogs.com, Facebook Messenger, or in the Facebook groups Flower Frogs, Flower Frog Collectors, and If Flower Frogs Could Talk.
Peter Christensen
---
My First Photo
Rookwood
Rookwood with Patterned Mold
Rookwood with Plain Mold
Roseville
Weller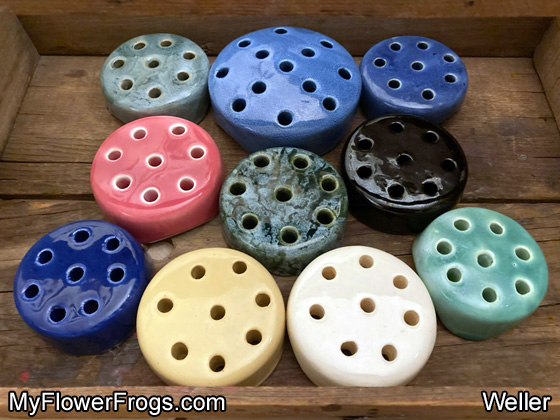 Peters & Reed, Red Wing, Rosemeade,
Stangl, Awaji, and Fulper
(left to right)
Other Photos of My Collection